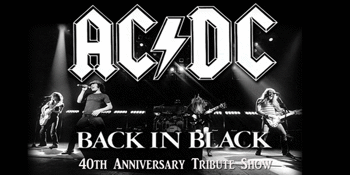 Hells Bells
Back in Black 40th Anniversary Tribute Show
Indian Ocean Hotel (Scarborough, WA)
Saturday, 17 October 2020 8:00 PM
Hells Bells returns to the Indian Ocean Hotel Sat 17rd October for the 40th Anniversary of Back In Black.
Back In Black was released 25th July 1980 and is, not only AC/DC's biggest selling album, but also the number one selling rock album of all time.
With songs that captured a new legion of fans such as (You) Shook Me All Night Long, Back In Black and the title song Hells Bells, the album has always been referred as 'all killer, no filler'
Perth's longest serving AC/DC tribute band Hells Bells has been entertaining AC/DC fans of all ages for 16 years, will perform two killer sets on the night, the entire Back In Black album in the first set then finish off with a mixture of Bon Scott's most loved hits including live versions of The Jack, High Voltage, Riff Raff, Live Wire... to name a few in the extended second set.
Prepare to be Thunderstruck as Hells Bells unleashes their new singer, the highly respected and revered Sal Abate, a consummate experienced performer with a voice to rival anyone who's ever done Bon Scott and Brian Johnson proud. Sal's backstory includes original bands "Emerald City", Rock Operas as well as a Guns and Roses tribute band 'Gunners' to name a few. Together with industry legends, Pete Borg, David Jenkins, Mal Osborne and Glenn Warber Hells Bells has now shifted gear to a new level of professionalism.
Supports to be announced.