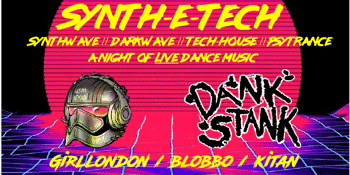 Tree Of Live presents
Synth-E-Tech Vol. 1
Feat. Ultima Armada, Dank Stank, GirlLondon, Blobbo & Kitan.
Friday, 20 September 2019 8:00 pm
Introducing Synth-e-tech, a night of powerful drumming, masterful synthwork and most importantly, the energy that only live performance can provide. Synth-e-tech is a community driven night of music, dance and joy where likeminded people gather to experience electronic music in its purest form. Delivering high quality production, mind bending visuals and incredible perfomers, Synth-e-tech promises a night like no other.
Featuring Ultima Armada and Dank Stank with support from GirlLondon plus live sets from Blobbo and Kitan.