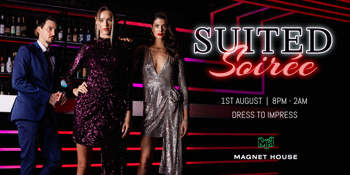 SUITED Events
SUITED Soirée
Magnet House (Capitol) (Perth, WA)
Saturday, 26 September 2020 8:00 PM
That's right ladies and gentlemen, it's time to cut the shackles and glam up for a show stopping, high voltage, dress to impress occasion to finally celebrate post lockdown in absolute style because SUITED Events is releasing their first ever late night event "SUITED Soirée" held at Perth's most anticipated brand new venue "Magnet House"
SUITED Events has exclusively booked out the hottest venue in Perth to run a premium late night Soirée which will showcase world class production spilled across two levels and three stages providing endless possibilities and full of surreal surprises.
SUITED Soirée finest artists; Elise Keddie, Jaymee Franchina and Kat Curnow are set to bring the house down with their R&B, Jazz club and house party classics spinning away until 2:00am.
Three unique zones will have guests spoiled for choice; From house party classics featuring upstairs to the best in RNB and house taking over the mainstage and jazz and funk live bands featuring in the beer garden matched with Devlins Cigar lounge offering the best cigars a lady or man can buy.
FEATURING
Premium beverage on arrival

Premium champagne and cocktails

Devlin's Cigar Lounge featuring the best cigars a lady or man can buy

World class production and entertainment

Two levels / Three stages providing endless possibilities and full of surreal surprises
We can't wait to celebrate post lockdown in absolute style at Suited Soirée..

ATTIRE: DRESS TO IMPRESS (cocktail)