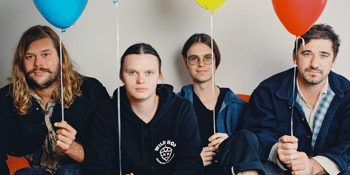 Piper's Son Agency
Pot Plant House Party - Time Machine Single Launch
Rosemount Hotel (North Perth, WA)
Friday, 6 August 2021 7:00 pm
Arriving as the second single for 2021, 'Time Machine' sonically showcases Pot Plant House Party paving a trademark sound of their own. 'Time Machine' is a further result of four active song writing minds coming together and providing a result that's nothing short of a burst of energy.
Straight off the back of their sophomore EP 'Sorry I Didn't Call You Back', and follow up single 'Late Night Science Fiction', Pot Plant House Party aren't showing signs of slowing down. The band toured WA with Psychedelic Porn Crumpets, shared the stage with Sly Withers and Gyroscope and embarked on their own headline WA tour in the back half of 2020 alone. The start of 2021 saw the band gain a WAM nomination for Most Popular New Act and sell-out hometown shows. Pot Plant House Party have displayed time and again the potential their unconfined sound has to create their own distinctive entity. Produced and engineered in-house by bassist Matthew Templeman, who also works with Sly Withers and produced and engineered PPHP's past release catalogue. As well as Seb Davies (vocals/guitar), Daniel Bromley (vocals/guitar) and Charlie Smith (Drums), 'Time Machine' is a further display of the band exploring their potential they've paved over the past year even further.
The band will be celebrating this release at the Rosemount Hotel, North Perth, August 6th with special guests, LO, Boy Girl, FKA Franky and Doubt.