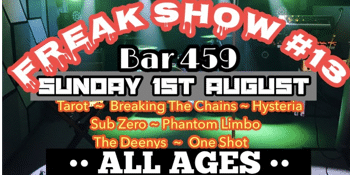 Superfreak Studios
FREAK SHOW #13
Tarot, Breaking the Chains, Hysteria, SubZero, Phantom Limbo, The Deenys, One Shot
Four5Nine Bar (North Perth, WA)
Sunday, 1 August 2021 2:00 pm
Superfreak Studios is thrilled to finally arrange Freak Show #13 after a 12 month hiatus.

We have 7 local Perth bands performing at the iconic Bar 459 @ Rosemount Hotel.

Doors open @ 2pm

Set times

215pm Tarot band
3pm Breaking The Chains
345pm Hysteria
430pm Sub Zero
515pm Phantom Limbo
6pm The Deenys
7pm One Shot

Doors open 2pm
All Ages show
$10 tix at the door
Sensational Sunday session

Be ready to rock out with some of Perth's coolest young bands.