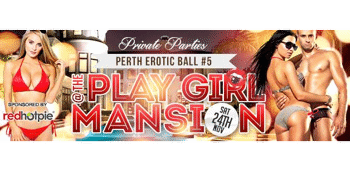 Private Parties
Perth Erotic Ball #5
Sponsored by RedHotPie, Play Girl Mansion @ Adults Only Perth Events
The Play Girl Mansion (Kalamanda, WA)
Saturday, 24 November 2018 7:30 PM
SUMMER LUST @ The Play girl Mansion...... Perth WA
Carved into the hillside across several levels and sprawling across 3000 sqm of stunning landscaped gardens with
panoramic views to the city and Indian Ocean beyond is the extra-ordinary Play Girl Mansion, our much heralded location for the 2018 Erotic Ball.

One of Perth's most exclusive and seductive locations, nothing screams sexy summer party more than a Hollywood Hills style mansion,
replete with a large pool deck, multiple spas, a nightclub boasting state of the art audio and visual effects, lounge zones to chill and play, a XXX Cinema and sexy play rooms.
It is the ultimate, unrivaled Adults Only playground.
You will be greeted at the gate by our security staff and once cleared for access, escorted by our RHP girls to enter the compound.
Once inside you are in a world where you can explore your fantasies and desires with-out judgment. Swim, dance, play or just relax and enjoy the myriad of
tantalising and delectable views on offer. Throughout the evening our waitresses will tempt your taste buds with a selection of hor d'oeuvres and canapes,
while the outdoors tropical bar and inside nightclub drinks station will keep your mouth moist and refreshed.
The evening is set against a soundtrack of deep, smooth and sultry musical selections curated by Private Parties own resident DJ's.
This is one of Australia's most exclusive and seductive events and attracts a local, national and international patronage of discerning lifestylers.
The 2018 Erotic Ball is strictly Ticket holders only and Tickets are limited.
*Register and secure your space as soon as possible.
*Registering does not guarantee an invite to purchase a ticket.
*Single gents will be offered a ticket based on single ladies Numbers.
* No BYO,t the Venue
*strictly arrival and departure by Taxi or Uber as there is NO PARKING a
This event is brought to you with the help of our amazing sponsors Red Hot Pie, The Play Girl Mansion,Marine1.com.au and Adult Events Perth.