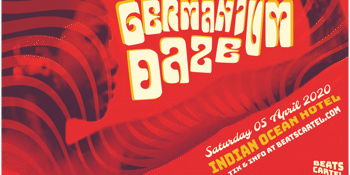 Beats Cartel presents
CANCELLED - Germanium Daze
with Kadavar, Deville, Astrodeath, The Floors, Fuzz Toads, Giant Dwarf, The Ivory Lies, Legs Electric, Mage, Moana, Maverick Firebird, Yomi Ship
Indian Ocean Hotel (Scarborough, WA)
Saturday, 4 April 2020 12:00 pm
Germanium Daze, tipping its hat to all things retro fuzz, is the latest minifest to launch on the West Coast, dropping a sweet international bill for fans of hard-hitting Psychedelic Rock'n'Roll.

Featuring a multi band bill over two stages, pool party and afternoon BBQ, the inaugural event plays host to German retro kings Kadavar, Swedish Hard Rock newcomers Deville and a bunch of WA's best touring acts along and interstate prospects.

Included (in alphabetical order) in the epic bill are Astrodeath (NSW), The Floors, Fuzz Toads, Giant Dwarf, The Ivory Lies, Legs Electric, Mage, Moana, Maverick Firebird and Yomi Ship to pair up with the international double Kadavar and Deville.

Germanium Daze is now on sale with a massive lineup at only $50+bf, unloading a big pile of good times onto the Indian Ocean Hotel on Saturday April 04 across two stages. Proudly presented by Beats Cartel.