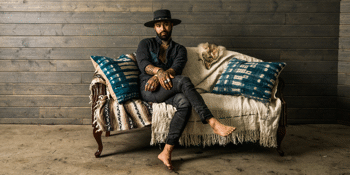 Nahko live at The River (Solo)
Kahl Wallis
The River (Margaret River, WA)
Friday, 26 April 2019 7:00 pm
After busily touring the world since his last performance in Margaret River, Nahko Bear is finally heading back to WA - this time for an intimate and stunning solo performance.
Nahko has chosen a few select locations for his solo tour, which follows his band Medicine for the People's east coast Blues Fest tour in April. Nahko's solo shows are something quite special - you'll be entertained not only with beautiful songs played on both piano and guitar, but also with story telling and a lot of laughs!
Nahko continues to gather dedicated members of his global tribe of likeminded fans as he spreads his positive and powerful musical message. His most recent album 'My Name is Bear' premiered at #1 on iTunes and debuted on a number of Billboard charts, and the headline tour in support of the album boasted multiple sold-out dates throughout the USA and Europe. 'My Name is Bear' is a 16-track collection that reflects the soul, authenticity, and spirit that Nahko's tribe has come to know.
Nahko is a world-renowned musician, prolific songwriter, and active social and environmental justice advocate. He has worked alongside Winona Laduke on the board of Honor the Earth and has been heavily involved with the resistance of pipelines in the Midwest, the salmon restoration in the Pacific Northwest, and an intertribal youth scholarship program which brings traditional teachings and wisdom to indigenous youth. Nahko is a firm believer in using music as a tool of empowerment to protect and preserve all of creation.
SOCIAL MEDIA LINKS
Official Website | Facebook | Instagram | Twitter | YouTube | Spotify | iTunes | Causes
Lead singer and songwriter for indie/alternative band The Medics, environmental and social activist, storyteller, and now solo performer.

Carving out a solo career with his new album stripped back to raw emotion, Kahl Wallis is delivering powerful messages through his music.