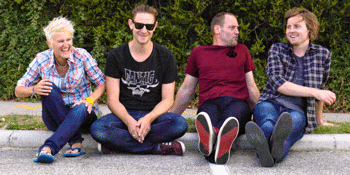 Jebediah
With special guests FLOSSY
Rock Rover (Fremantle, WA)
Friday, 28 September 2018 7:30 PM
Rock Rover is the type of live music venue that could only happen in Fremantle. A collaboration between local culture creators (and the people behind Mojo's bar) Cool Perth Nights and the grassroots legends at South Fremantle Football Club, Rock Rover is exactly like the football position its named after. A rover changes direction fast. A rover is unpredictable. A rover is charming despite its muddy knees. A rover knows how to party. From producers to rockers, comedians to dancers, rappers to balladeers - everyone get's a guernsey at Rock Rover. It just so happens that Jebediah bass player Vanessa Thornton is also a big South Freo bulldogs fan - not to mention the WA band's long-held connections to the port city - and so the synergy begins!
It was almost 23 years ago that Jebediah first shambled on stage in their shorts, sneakers, blue hair, dimples, grins and smirks and started bouncing off the walls with their roaring riffs and soaring pop hooks, tearing the lid off the Big Day Out and the Hottest 100 overnight.
It's impossible for an Australian of a certain vintage to imagine those late '90s summers without those delirious early Jebs singles — 'Jerks of Attention', 'Leaving Home', 'Teflon', 'Harpoon', 'Animal' — blasting out of every car radio and festival PA from Summersault to the Falls to Homebake.
23 years, six albums and piles of awards and acclaim later, the Jebs continue to captivate their devout fan base with their infectious energy and enthusiasm. There is no hiding the joy the band get from playing together and be it at packed pub or on a festival stage, it's impossible to avoid their immersive charm.

Ticket includes a social membership of SFFC Inc