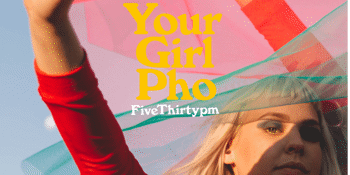 360artistlogistics.net
Your Girl Pho "FiveThirtypm" Single Launch
with special guests Adrian Dzvuke, House Of Bok DJ's, Real Housewives of Northbridge, DJ Bexx
Si Paradiso (Highgate, WA)
Saturday, 20 April 2019 7:00 PM
Closing out a summer that's seen her deliver high-energy performances at her local legs of FOMO, Listen Out, Laneway and more, Your Girl Pho the magnetic stage persona of Perth's Phoebe Gunson announces her first national headline tour of 2019 in support of incoming new single 'FiveThirtyPM'.
Dubbed a "sensory feast" thanks to her distinctive personal style and "daring dance moves" (Music Insight), Your Girl Pho's live show is not to be missed, playing as a tight three-piece band (drums, saxophone) across all dates.
...~ S u p p o r t s ~...
Adrian Dzvuke
Special Guest performance in interval
House of BOK
BEXX
Entry is free for first nations people - please contact this email: hayley@360artistlogistics.net
We acknowledge, pay our respects and thank the Wadjuk Nyoongar people. The Nyoongar people remain the traditional and cultural custodians of this land this event takes place on. This is, was and always will be Aboriginal Land.