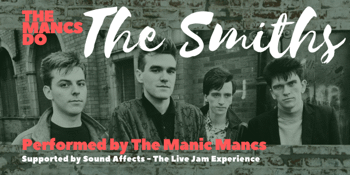 The Manic Mancs present
Mancs Do The Smiths
with special guests The Sound Affects (performing The Jam)
Saturday, 7 August 2021 8:00 pm
Mancs do The Smiths…with a dollop of Jam
The lads who brought you The Stoned Posers, Madchester Mayhem and Britpop Bedlam are delighted to be hosting a brand new show, featuring the music of one of their favourite bands. They've played the music of The Smiths in their sell-out Madchester Mayhem shows, but decided it was time to dedicate a night to the legends themselves!
The Mancs will be delivering a collection of The Smith's greatest hits + some backlist gems not often included in set lists. Combining Morrisey's iconic lyrics with Marr's ingenious guitar licks, this is your chance to enjoy the Mancs take on Manchester's finest. Join us to experience the thrill of these great songs played live.
Supported by Sound Affects and their rocking tribute to The Jam, this will be a show you don't want to miss.