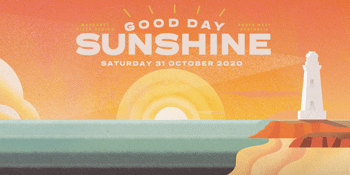 Macro Music presents
Good Day Sunshine Festival
JOHN BUTLER • XAVIER RUDD • JOSH PYKE • AINSLIE WILLS • KYLE LIONHART • DULCIE • MOON & HONEY
3 Oceans Winery (Metricup, WA)
Saturday, 31 October 2020 1:00 PM
GOOD DAY SUNSHINE FESTIVAL 31.10.20
• JOHN BUTLER • XAVIER RUDD •
• JOSH PYKE • AINSLIE WILLS • KYLE LIONHART •
• DULCIE • MOON & HONEY •
- - - - - - - - - - - - - - - - - - - - - - - - -- - - - - - - - - - - - - - - - - - - - - - - - -- - - - - - - - - - - - - - - - - - - - - -
Hot on the heels of
Here Comes The Sun
and
Sugarloaf Rock festivals
, the Margaret River region continues its run as the live music hot spot of summer with the announcement of
Good Day Sunshine Festival
.
Taking over the beautiful grounds of 3 Oceans Winery on Saturday, October 31st, 2020,
Good Day Sunshine
features the absolutely stellar lineup of John Butler, Xavier Rudd, Josh Pyke, Ainslie Wills, Kyle Lionhart, Dulcie and Moon & Honey... plus a glorious array of local artisan food, drink, stalls and artists.
BUSES
We are running two different bus tickets from Margaret River, Busselton & Dunsborough this year.
"EARLY RIDER" BUS PASS
Get to the show from the get go! These buses arrive at gates open so you can experience the whole day.
The
Early Rider
bus tickets depart the event straight after the show at 10:00pm
"LAST DRINKS" BUS PASS
Arrive a little later - stay a little later and party with us at the Loose Change Stage!
These buses arrive to the show a little later and leave from 11:30pm. Bring your dancin' shoes!
-------------------------------
DOWNLOADS
•
Festival Guide & conditions of entry
•
Bus Schedule
•
Bus Maps & pick up locations