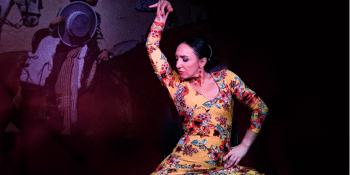 Presented by Adam Hall and Aire Flamenco
Flamenco in the Underground
with Aire Flamenco Dancers and Guitarists and special guest Steve Richter (Percussion)
Lyric's Underground (Maylands, WA)
Sunday, 15 August 2021 4:00 PM
AIRE Flamenco Spanish Flamenco Tablao is returning to Lyric's Underground following sold out shows at Fringe World earlier in the year.

Lyric's Underground will showcase the richness and variety of flamenco art on Sundays in August. The shows will include a free dance lesson and the opportunity to learn and participate in the flamenco art form that UNESCO has declared is a Culture for Humanity.

Aire Flamenco dancers join guitarists Jose Manuel Giraldo and Francesca Lizza and special guest Steve Richter on percussion for an afternoon of Spanish music and dance.



Madrid born Jose Manuel Giraldo is the pre-eminent flamenco guitarist in Australia and will be joined by Francesca Lizza in a series of guitar duos. Dancer's Valeria Gonzalez and Maree Laffan will perform a selection of dances that showcase flamenco styles and regions in Spain. We are excited to have Steve Richter on percussion to complete the line-up for this August season.

Join us in August to share the magic and passion that is FLAMENCO!