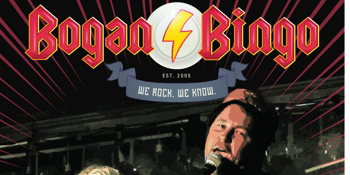 Bogan Bingo
Wanneroo Villa Tavern (Wanneroo, WA)
Saturday, 31 July 2021 7:30 pm
We're taking the social interaction and engagement of your local trivia night and mixing it in with the comedy capers of your long running comedy night.

You'll have one host (bingo caller) and a DJ, side by side taking everyone through two games of bingo, complete with air guitar competition, 'biggest bogan in the room' survey and even a little fashion parade if the punters get dressed up.

All this to the rocking anthems of the 80's and 90's so even if people are just watching, they are still entertained.

2 Rounds with a break.
Doors 7:30pm. Starts 8:00pm. Finishes 10:30pm.