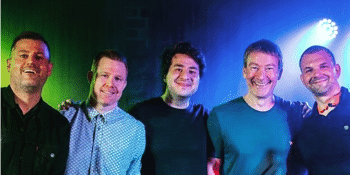 The Parkas
Friday, 30 July 2021 8:00 pm
Meet THE PARKAS, a talented, new group of experienced British musicians smashing out the ultimate tribute to British 90's indie cool.

Take a musical journey that includes the seminal classics of Manchester counter-culture and the very best of Cool Britannia, with all its swagger and anthemic stadium sound.

With songs from The Stone Roses, Oasis, Blur, Pulp, The Verve, Radiohead, Arctic Monkeys, Primal Scream, James, The Smiths, Supergrass, Ocean Colour Scene, Paul Weller, Franz Ferdinand, Kaiser Chiefs, Stereophonics, The Charlatans and more; an awesome night is guaranteed.

Lead singer of THE PARKAS is Mark Stone; an established solo performer of the songs of the era and currently one of the busiest gigging musicians in WA.

For fans of British Indie and Britpop, this is not a show to miss.