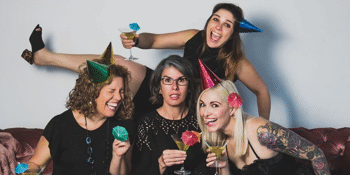 The Motherhood
POSTPONED - The Motherhood present Mums Gone Wild
Emma Krause, Simone Springer, Lucy Ewing, Pony Knox
Settlers Tavern, Margaret River (Margaret River, WA)
Thursday, 16 April 2020 9:00 pm
Your favourite mums are back and they're wilder than ever! Call the sitters, dust off your party shoes and join The Motherhood's happy hour of hilarious confessions. From breastfeeding to tinder dates, ADHD to UDLs and everything in between.

Join The Motherhood for a wild night out. Mum style. Lucy Ewing, Emma Krause, Simone Springer and Pony from the sell out show 'Surviving the Circus,' get real about life as mums. Find out what happens when mums go wild.
"I'm not afraid to admit, I laughed so hard a tiny bit of wee came out" ★★★★★ Winning at Failing, 2018
As reviewed by Perth Mums
"I'm so glad I crawled out of the house to make it to this show. I realise now I am as messed up as every other mother out there."
"Laughed until my episiotomy scar hurt and makeup was running down my face."
"I had to cross my legs through the whole show."
"To say LOVED this show would be an understatement! Absolutely hilarious."
The Motherhood is made of four passionate women Emma Krause, Lucy Ewing, Simone Springer and Pony. Not only are they stand-up comedians and RAW state finalists but they are also Mums, small business owners, authors, radio presenters, teachers, wives, friends and daughters. They are a group of Mums who are real, they screw things up on a regular basis, no matter how hard they try.
The group formed in 2017 and have been performing to packed out crowds throughout Western Australia ever since. 'Surviving the circus' sold out FRINGEWORLD 2018 and Perth International Comedy Festival 2019. This year, their brand-new, epic show 'Mums gone wild' won the weekly comedy award at FRINGEWORLD 2020.
Doors open 7.30pm for $10 Comedy Cocktails, show starts 9pm.