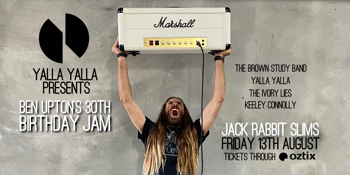 Yalla Yalla Presents
Ben Uptons 30th Birthday Jam
with special guests
Jack Rabbit Slim's (Northbridge, WA)
Friday, 13 August 2021 8:00 pm
So straight up, this is no ordinary 30th Party! Everybody is welcome so bring your friends and let's party with some of Perth's best local bands and a bunch of deadset legends!

We are bringing out the heavy artillery for this one with some of Benny's favorite local acts!

Lineup:

The Brown Study Band
Yalla Yalla
The Ivory Lies
Keeley Connolly (Solo Set)

Ben Upton, the man, the mystery, the rockstar hair and that deep, sexy voice! We are honored to have had him as our guitarist for Yalla Yalla over the past three and a half years. He has been a long-standing friend to all of us before that and we look forward to many more rad times together! So this my friends 'will be a big one!' He has been a drummer and guitarist for many bands in Perth over the years such as Filthy Apes, The Western Trendkill (Pantera tribute), Crystal Moth and who could forget Silver Musket to name a few

On the 13th of August, the eve of his 30th birthday, we are expecting a pilgrimage of legends from this man's magnificent life leading to his favorite live music firing spot, Jack Rabbit Slims!