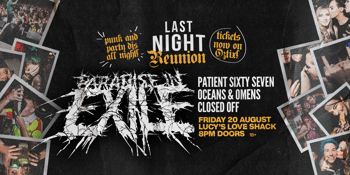 LAST NIGHT: REUNION
Lucy's Love Shack (Perth, WA)
Friday, 20 August 2021 8:00 pm
LAST NIGHT: 2021 REUNION
ʙᴀɴᴅs / ᴇᴍᴏ / ᴘᴏᴘ-ᴘᴜɴᴋ / ᴘᴀʀᴛʏ ᴀʟʟ ɴɪɢʜᴛ
Last Night is back to bring you all of the punk & party vibes you loved.
It's time to get out of mosh retirement for the reuniting of PARADISE IN EXILE after 8 years! It's going to be a sweaty one

★ PLAYING LIVE ★
Paradise In Exile
Patient Sixty Seven
Oceans & Omens
Closed Off
★ PUNK & PARTY DJs ★
Our DJs will be playing all your favourite punk, emo, heavy, party tunes till 5am
★ PIZZA & DRINKS ★
Lucy's Pizza served all night (vegan, veg & gluten free options)
Long Island Iced Tea
Drinks menu is still being finalised
★ FREE STUFF ★
PIZZA @ 12AM
POOL TABLE
NINTENDO 64
TIX:
www.bit.ly/LNAUG20
1st Release: SOLD OUT
2nd Release: $20+bf
Door Sales: $25
All tickets bought for the Last Night reunion on Friday April 23 will be valid for this event. You do not need to buy another ticket.
FRI 20 AUGUST
LUCY'S LOVE SHACK
8PM to 5AM
104 Murray Street, Perth
18+ •
fb.com/lastnightperth
• @lastnightperth