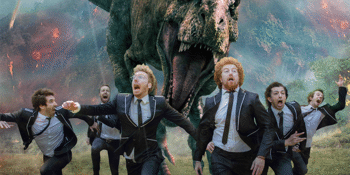 Niche presents
Furnace And The Fundamentals
Furnapalooza Tour 2020
Friday, 10 September 2021 7:00 PM
The band described as 'humanity's most exhilarating dance party' are taking their incredible party-starting energy around Australia in 2020, visiting Adelaide, Perth, Brisbane, Sydney & Melbourne during February, March & April.

The six Sydney showmen with a penchant for party covers and over the top antics will deliver FURNAPALOOZA – an exhilarating, non-stop party set of the greatest songs of all time, accompanied by a mind-boggling, memory-triggering matrix of music footage on the big screen, light up suits, inflatables and more dance-floor anthems than you can count.

From Beyonce to The Beatles, Queen to Eminem, The Lion King to Dirty Dancing – tens of thousands of fans across the UK, Europe, Australia, Asia and New Zealand have seen Furnace and the Fundamentals earn their reputation as bona fide party legends, including show-stopping performances at Falls Festival, Lost Paradise, Edinburgh Fringe Festival, St Kilda Festival, the British Grand Prix, Perth & Adelaide Fringe Festivals, NYE in the Park, the Australian F1, NYE on Sydney Harbour and countless packed club shows.

The band will headline 'The Ultimate Fringe Party' at Adelaide Entertainment Centre in February, before continuing in March to play Max Watts in Melbourne, Capitol in Perth, The Triffid in Brisbane & wrapping up in April at Sydney's Enmore Theatre.

In July, the band head back to the UK & Europe for the fourth time, playing UK festivals Hersham, Beer Bop A Lula & Todd In The Hole, as well as returning as the Friday night headliners at Zomerfestival Ijmuiden in the Netherlands. They will also headline London's Electric Ballroom for the second time, along with visiting Glasgow & more to be announced.

The past 18 months have been trailblazing for the Sydney band – international festivals, numerous television and radio appearances, the release of their first Christmas record 'A Very Furnace Christmas' earning coverage on MTV UK, Triple M Australia & more. It's been a non-stop ride for the Australian non-stop party band, with plenty more to come.

The group's dazzling displays have a history of selling out – so get in quick and bring your dancing shoes – it's Furnace time.