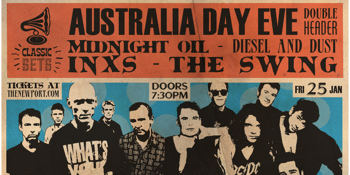 Australia Day Eve Special | A Classic Sets Double Header
Midnight Oil & INXS Tribute
Performed by XS OIL
The Newport Hotel (Fremantle, WA)
Friday, 25 January 2019 7:30 pm
AUSTRALIA DAY EVE SPECIAL:
A Classic Sets Double Header
performed by XS OIL

'XS OIL' are a group of record club veterans plucked from successful bands such as Boom Bap Pow, Oats Supply, The Never Never, Melbourne Ska Orchestra amongst many. For Australia Day Eve they will be performing in full two iconic Australian alums.

Firstly The Swing by INXS. This was Australian Number 1 for 5 weeks in 84 - and was a break out album for INXS including the hits Original Sin, Melting in the Sun, I Send a Message, Johnson's Aeroplane and Burn for You.

Next up is Diesel and Dust by Midnight Oil. This 1986 album was where Midnight Oil "reached the peak of its powers with the release of the groundbreaking Diesel and Dust... [it] is arguably one of the greatest Australian albums of all time. Powerful, dynamic and passionate songs like 'Beds are Burning', 'Put Down that Weapon', 'Dreamworld', 'The Dead Heart' and 'Sell My Soul' were statements of intent and a call to action backed by the strength of their convictions".