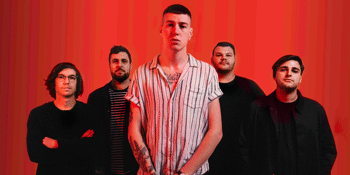 Trophy Eyes
with special guests
Friday, 10 May 2019 8:00 PM
After a massive year on the back of their critically acclaimed progressive third full length album The American Dream and breaking the triple j Hottest 100 with their single 'You Can Count On Me' Trophy Eyes were announced as one of the most exciting and energetic acts on the Groovin The Moo 2019 Tour.
Due to seriously high demand, there was no way the 5 piece was going to make their way to the West Coast without a special headline in the states capital. This will be the first show in Perth since the release of the band's dynamic rollercoaster of an album, so don't miss it!

Bursting with nuanced energy and massive hooks, Trophy Eyes'f third album, The American Dream, exploded out of the gate charting at #8 in Australia (#1 Australian/Independent Artist), earning the coveted Triple J Feature Album, and garnering high praise from the critics (5/5 NME, 9/10 Rock Sound, 4K Kerrang!).

The American Dream distills the singer's American experiences into a brand-new sound for the quintet—Floreani, Jeremy Winchester (bass), Andrew Hallat and Kevin Cross (guitar) and Blake Caruso (drums). It's a marked change from the sweat-soaked, critically acclaimed punk spirit of 2014's Mend, Move On and 2016's Chemical Miracle (which debuted at #8 in Australia), a sound that moved listeners around the world to the tune of back-to-back sold-out Australian headlining tours and similarly sold-out treks in North America and the UK.