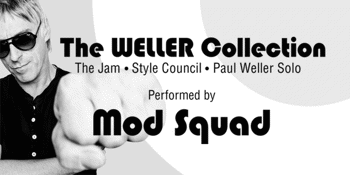 Classic Sets: The Weller Collection
Performed by Mod Squad
The Newport Hotel (Fremantle, WA)
Friday, 4 October 2019 8:00 pm
A live show celebrating the lifework of the Modfather himself, Paul Weller, The Weller Collection takes a journey through Weller's 40 years career as a writer and musician. Performed by local hero's, Mod Squad & The Brighton Horns, the band will perform material from the early punk\mod revival days of The Jam and track the evolution of the band into the edgey but soulful sound that eventually became The Style Council and then ultimately Paul as a successful solo artist.

Get ready for all the biggies including Eaton Rifles, A Town Called Malice, Walls Come Tumbling Down, Shout it to the Top, Floorboards Up and many more.

A Changing Man indeed.