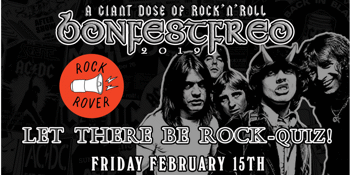 BONFESTFREO presents
BONFEST FREO | Let There Be Rock! Quiz
Rock Rover (Fremantle, WA)
Friday, 15 February 2019 8:00 pm
February 2019 marks the 39th Anniversary of the passing of rock legend, AC/DC lead vocalist and Fremantle local hero, Bon Scott. And the 11th anniversary of the Bon Scott Statue Erection.

To mark the occasion, Bonfest-Freo – A Giant Dose Of Rock 'n' Roll, will bring together musicians and music fans across the globe in a three-day weekend celebration (February 15 – 18, 2018). Taking place in beautiful Fremantle, Western Australia – the final resting place of Bon Scott.
Book now for Bon's 'Let There Be Rock-Quiz'!! numbers are strictly limited & this will sell out quickly!! With live music opening the night from the kids from Fremantle's "School of Rock", an AC/DC / Bon Scott / Aussie Rock quiz night with a live band and interactive games & prizes, then finishing the night with a live performance from "Blood + Thunder" the live Rock ' n ' Roll experience saluting the sounds of Albert Production & Bon Scott!!
Tickets: presale $39 Inc bf. Door sales $39
BOOKINGS ARE ESSENTIAL, so be quick to lock this one in!!