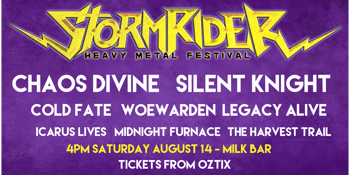 Stormrider Heavy Metal Festival
feat. Chaos Divine + Silent Knight + Woewarden + Cold Fate + Legacy Alive + Icarus Lives + Midnight Furnace + The Harvest Trail
Saturday, 14 August 2021 4:00 pm
After a Covid caused hiatus in 2020, STORMRIDER HEAVY METAL FESTIVAL is back for its 7th year with a best of WA line up which is sure to please even the most discerning of metal heads!
Perth's enigmatic prog metal five-piece CHAOS DIVINE have well and truly immersed themselves in a realm of sound and style matched by few, and admired by many.
With a suite of industry accolades, national and international tours, and appearances at major music festivals under their belt, CHAOS DIVINE have carved out an impressive reputation for delivering a powerful and dynamic live show.
The band has played alongside some of the biggest names in rock and metal including SLAYER, MASTODON, TESSERACT, ANIMALS AS LEADERS, ARCH ENEMY, KATATONIA, FEAR FACTORY & TRIVIUM and we welcome them as our headline act for STORMRIDER HEAVY METAL FESTIVAL 2021!
SILENT KNIGHT are coming at full force with strong Power Metal roots influenced heavily by melodic European bands IRON MAIDEN, HELLOWEEN & GAMMA RAY, fused with the aggressive speed of American bands ICED EARTH & MEGADETH! Having played festivals in Europe and Asia and numerous Australian tours as well as opening for bands such as HELLOWEEN, DRAGONFORCE, ZAKK WYLDE'S BLACK LABEL SOCIETY and a tonne of others, this energetic live act is definitely not one to miss!
Pure Western Australian Thrash band COLD FATE return to Stormrider! For fans of Bay Area Thrash, we'd highly recommend booking in the chiropractor for the following morning or having a neck brace on standby. You know what you're in for here!!
With DSBM being one of the most tortuous forms of music about, it's only fitting that we welcome WOEWARDEN to Stormrider 21!
Featuring past and present members of DEADSPACE, ADVENT SORROW, FLESH WORSHIP, PESTILENTIAL SHADOWS, AVISCERUS and DOOMCAVE, WOEWARDEN will enthral black metal lovers with a mix of pummelling blast beats, agonising howls, frantic guitars and most importantly: despair.
Another high voltage lightning strike hits STORMRIDER with Upbeat Party Hard Rockers LEGACY ALIVE!
Good times, huge vibes, infectious riffs & an electric live show, LEGACY ALIVE embody 80's rock bands like VAN HALEN, BON JOVI & JOURNEY but with a fresh and modern twist. These guys are always a great time!
Influenced by modern metal superstars such as EVANESCENCE, BULLET FOR MY VALENTINE & LACUNA COIL. ICARUS LIVES perfectly combine clean, catchy vocals with crushingly heavy riffs, blistering guitar solos and pounding drums.
New kids on the block MIDNIGHT FURNACE join the line-up after hitting the pubs & clubs hard over the last year. A killer blend of Heavy Metal & Rock, influenced by bands like PANTERA, SLAYER & DEFTONES these lads are out to impress!
Taking inspiration from 90's melodic death metal but doing it faster and angrier than ever before, THE HARVEST TRAIL have just released their debut album, INSTINCT and we welcome them aboard to Stormrider Heavy Metal Festival 2021!
THE HARVEST TRAIL is a new name on the circuit, but features established musicians from other metal acts such as CLAIM THE THRONE & RED DESCENDING if you haven't seen these guys yet, they absolutely crush!!
Saturday August 14 – Milk Bar
Doors open 4pm
Tickets are available from Oztix
Join the Facebook event https://www.facebook.com/events/473603023891908
Get to know the bands by following the STORMRIDER HEAVY METAL FESTIVAL 2021 Spotify Playlist https://open.spotify.com/playlist/7JYBOGxveLiVgvHywgj9mE?si=skwEzQ-kQQqgmWounBwXtA
Proudly supported by
Destroy All Lines
Sound Centre
Heavy Metal Merchant
All Things Rotten
Critical Mass RTRFM 92.1
This is an 18+ licesed event. Valid ID is requried for entry.