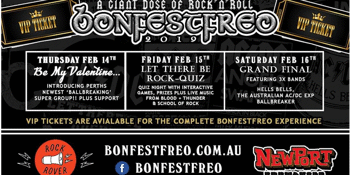 BONFESTFREO presents
BONFEST FREO | VIP Three Show Bundle
Featuring Hells Bells, Bon's Salute, The Australian ACDC experiance and Ballbreaker
The Newport Hotel & Rock Rover (Fremantle, WA)
Fri 15 - Sat 16 February 2019 8:00 PM
VIP tickets at just $150 gets you entry to all 3 *shows.
Alternatively you can purchase individual tickets for each show.

*Thu 14th Feb.
BonFest Freo: Be My Valentine at The Newport Hotel, Freo with Ballbreaker and support.

*Fri 15th Feb.
Bonfest Freo: "Let There Be Rock-Qiz" at Rock Rover, Sth Freo FC with front row reserved seating, table service, meal and a drink.

*Sat 16th Feb
BonFest Freo: "Grand Finale" featuring A Giant Dose of Rock n Roll by 3 of Perth's AC/DC Tributes / Salute bands!! Including Perth's newest AC/DC supergroup 'BALLBREAKER' + "THE AUSTRALIAN AC/DC EXPERIENCE" + Perth's longest-serving "HELLS BELLS, A Salute to AC/DC" at Freo's newest rocking venue 'Rock Rover' at South Fremantle FC.