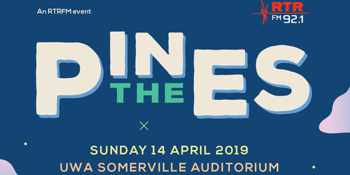 RTRFM 92.1
In The Pines 2019
Somerville Auditorium, UWA (Crawley, WA)
Sunday, 14 April 2019 11:00 AM
RTRFM's Iconic local music Festival IN THE PINES is back for its 26th year at our home away from home, UWA Somerville Auditorium.
TICKETS ON SALE NOW
RTRFM 92.1's In The Pines returns for its 26th year on Sunday, April 14, 2019.
RTRFM's local music fest takes place once again in the majestic surrounds of UWA's Somerville Auditorium, featuring 20 of Perth's best across two stages.

The first round of acts officially announced during Breakfast with Taylah on Monday, March 11.
From Perth to Chile and back again, Last/Tuneless, the brain child of Fabian Rojas has taken his music around the world a few times and has landed at the Somerville. A true gentleman of the Perth music scene, Fabian returns for a very special one time only show in for In the Pines 2019.

Salary, lead by front person Sean Gorman is a collection of like minded free thinking spirits who just happen to make some wonderfully lo-fi pop music that transcends genre and feel. A true big band, Salary's atmospheric and expansive music cross borders of genres, transcending time and place.

Every so often a voice captures a moment in time, Jack Davies and the Bush Chooks may have captured 2018/19 in the best possible way. Slow, melodic and deliberate song writing that evoke quintessential West Australian imagery, Jack Davies is the voice of a new generation of Perth storytellers.

Hexx are hard to define, so lets not. It's apocalyptic ambience. Just come and see them and experience the ferociousness of a band that is at times make you want to take one step back, and two steps forward.

Having recently signed to local WA label Group Therapy Records, GAZEY are one of those bands at In The Pines that few will know but all will love. Their synth heavy, groove-laden tunes will fill Somerville Auditorium with a pure sense of joy.

One of Perth's finest national exports, Mt. Mountain have been making music around Perth for close to ten years and just keep getting better. Their most recent album Golden Rise is a triumph of modern post rock music and a slight departure from their normal epic tunes, their 'pop album' you may say. Filled with delicious hooks and driving melodies, Mt Mountain are the perfect Pines band.

These bands join Cold Meat, Didion's Bible, Downsyde, Flanders, Gemma Farrell Music Quintet, Noah Dillon, The Little Lord Street Band

Celebrate with us as we bring you IN THE PINES with the 26th installment set to be one of the best yet. 26 years of local music at the best venue in Perth, you can not go wrong.

With 10 hours of local music against a stunning background, In The Pines is a perfect place to picnic with friends and get amongst it! Delicious food and drink options will also be available for those that want to dance freely.

We'll be broadcasting all the happenings live on your radio from 11am-10pm at 92.1, on digital and online at rtrfm.com.au.

Presale tickets are available from now at $35 for RTRFM subscribers and $40 for general public. Plus, booking fee, which is donated back to RTRFM via Oztix.

Tickets can be purchased from rtrfm.com.au.

The second lineup announcement will be announced on Breakfast with Taylah on March 25.

WHEN: Sunday April 14, 2019, 11am-10pm.

WHO: Cold Meat, Didion's Bible, Downsyde, Flanders, Gemma Farrell Quintet, Noah Dillon, The Little Lord Street Band plus Salary, Gazey, Last Tuneless, Jack Davies and The Bush Chooks, Mt Mountain and Hexx.
WHERE: Somerville Auditorium, University of Western Australia, 35 Stirling Highway, Crawley.
PRESALE TICKETS: $35 RTRFM subscribers, $40 general public from rtrfm.com.au.
DOOR SALES (LIMITED): Available on the day, $40 RTRFM subscribers, $45 general public.
Please note gold and platinum subscribers gain free entry. In The Pines is an 18+ event unless accompanied by a parent or guardian. Under 12 gain entry for free.