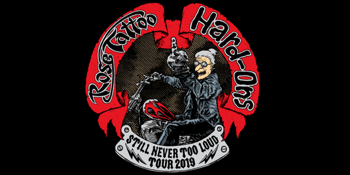 The Harbour Agency presents
Rose Tattoo & Hard-Ons 'Still Never Too Loud' Tour
with special guests
Rock Rover (Fremantle, WA)
Saturday, 13 April 2019 7:30 pm
Rose Tattoo, the true rock and roll outlaws and first and last gang in town rumbled into existence in late 1976 with a New Year's Eve debut at Sydney's legendary Bondi Lifesaver.

The band was the vision of Pete Wells, former bassist with Sydney heavy metal kids, Buffalo, his master plan embellished by ex-Band of Light bassist, Ian Rilen.

With Wells on slide guitar and Rilen on bass, former Buster Brown singer, Angry Anderson was recruited along with rhythm guitarist Mick Cocks and drummer Dallas "Digger" Royal and they set about destroying eardrums and venues across Australia.

With the band's enormous power came a level of internal combustion and in August 1977, Rilen left on the eve of the release of the band's debut single for Alberts, Bad Boy For Love to form the soon to be equally infamous X.

Geordie Leach who had played with Angry in Buster Brown stepped in to replace Rilen and the band's classic self titled debut album produced by Vanda and Young was released in late 1978 with the killer singles, Bad Boy for Love, Rock n' Roll Outlaw and One of the Boys.

Being one of the best live acts in Australia and offering up an album that made The Stones at their peak sound tame tragically wasn't enough and Tattoo found the going tough in their homeland. Their banning from Countdown, the country's top music TV show, allegedly after Angry and Mick Cocks appeared to kiss on camera, summed up their lot.

The Hard-ons; a quartet of ageless musicians playing timeless music for no other reason than the music itself. Here they are, in their fourth decade of rampaging across the globe, with their heady hybrid blend of bubble-gum, metal, punk, psychedelia and power-pop.

For all intents and purposes this was a doomed band: a multi-racial suburban high school band that deliberately took a left hand path into oblivion and ended up touring almost thirty nations across thirty-five years, and amassing an unprecedented and never-to-be-paralleled seventeen consecutive number one releases on the Australian independent chart dating back to 1985.

The indefatigable Hard-ons present wild, loud and action-packed live shows. All but the ageist bigot would deny that they are playing better than ever in their history. The Hard-ons live, are not to be missed!