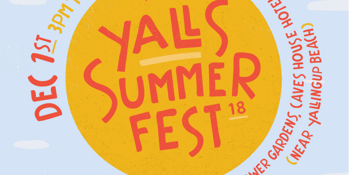 Yalls Summer Fest
Lower Gardens, Caves House Hotel (Yallingup, WA)
Saturday, 1 December 2018 3:00 pm
Need transportation? Please head HERE to organise bus tickets when you buy your event tickets.

Caves House Hotel Yallingup will be hosting their first garden music festival in Yallingup to celebrate the beginning of summer this December. The Yalls Summer Fest headlines with the very popular indie-band The Jungle Giants, as well as other popular triple J acts Holy Holy and Clews, with opening local acts The Blue Child Collective & Valentine.
The Jungle Giants dominated this years Triple J Hottest 100 and are renowned for their energetic live sets, filled with charging dance hooks and contagious choruses. Indie-based rock band Holy Holy are also a popular duo circuiting the triple j music scene.
Events Coordinator Jayne Pendal says the event is aimed to bring both local and out of town festival goers to the venue. "We have not hosted a music festival like this before so we are very excited to utilise our gardens with an epic line up of Australian musicians".
Ms Pendal advised "We chose the line-up based on the fun, summer sound we wanted for the festival, bringing both national and local artists together to kick off the first day of summer".
Caves House Hotel co-owner Neil Jilley said the event aims to attract over 2000 patrons to their gardens. "We are excited to host the Yalls Summer Fest and intend to make this an annual event."
Yalls Summer Fest will be held in the lower gardens on the Caves House Hotel property, close to Yallingup Beach on Saturday 1st December 2018.