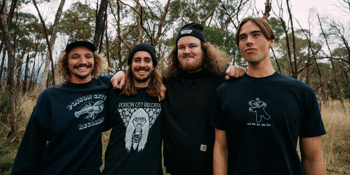 Sidequest & Select Music present...
Sly Withers Perth All-Ages August 2021
with Detour & The Violets
YMCA HQ (Leederville, WA)
Saturday, 7 August 2021 6:00 pm
Our new album Gardens is out and we haven't seen you all in ages, let's have some fun! Supported by Detour and The Violets.
Please remember that everyone is at the show to have a good time, so look after yourself and those around you. If you're feeling uncomfortable or unsafe please flag down staff or anyone from the bands. We're here to make sure your experience is 100% in your control.
We acknowledge that these events are taking place on stolen land. We acknowledge that sovereignty was never ceded and pay our respects to elders past, present and emerging. Always was, always will be Aboriginal land.
**This is an alcohol & drug free event**