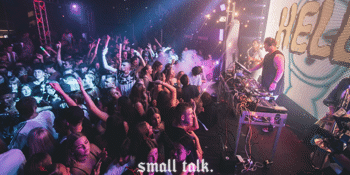 facebook.com/smalltalkaustralia/
POSTPONED - small talk. | the return (U18)
Arcade Nightclub (Joondalup , WA)
Saturday, 15 August 2020 6:00 pm
PUT ON HOLD due to WA Govt. changing COVID restrictions. NEW DATE will be advised once in Phase 5.

Already bought a ticket? It will still be valid for the future event. Want to buy a ticket? We have a handful left, but they are on hold until we have a date.

its been too long. the return is inevitable

6pm - 9pm

tickets:

strictly ages 13-17.
Valid photo ID must be presented at the door

small talk.
Perth's newest underage thing to go to.

Talking points:
- Perth's best club and festival DJs
- Better sound and lighting than your mates 16th
- A bunch of other small (big) surprises we can't say yet

Insta @smalltalkaustralia

want to join the small team?
∙ bring friends
∙ earn $$$
∙ party free
click this --> https://bit.ly/smalltalkTeam

------

*UPDATED REFUND POLICY 1/12/2019 - All refund requests must be submited seven days before the event. Any request after that for any personal reason will not be accepted*

Questions & Answers:

Q - Will there be security at the event?
A - Absolutely there is. It is a legal requirement security is present at any of the venues we host our events at. They are stationed both inside and outside the venue to ensure all patrons stay safe at all times.

Q - Can anyone over 18 attend this event?
A - No, they can not. This event is strictly for 13 year - 17 year olds. ID will be thoroughly checked upon entry. Anyone over the age of 17 will be immediately turned away from the entry and asked to move on.

Q - Is the event drug, smoke and alcohol free?
A - Every event held by the Small Talk team is drug, smoke and alcohol free. The venue isn't allowed to display any sort alcohol or advertising of that nature. Anyone caught using, dealing or being involved with any sort of contraband will immediately be removed from the premises. This will result in a strict ban from attending any future events at the venue or with Small Talk.

Q - Is there a dress code?
A - Our advice? It's always a safe bet to dress up instead of dressing down. Make sure you're looking fresh and respectable. Clean clothes a are given. No thongs of course, as much as we love wearing flip flops, save them for the beach.
Q - What security checks are in place for entering the venue?
A - Upon entry, each individual is checked using a metal detector. Any bags brought into the venue are heavily checked and any contraband confiscated from an individual will result in he or she not being allowed entry into the venue. No forms of liquids are allowed into the venue (Yes that means you can't bring in any bottles).

Q - What security checks are in place for leaving the venue?
A - Once a patron leaves the venue they are not allowed back in. This is said before exiting. It is a strict legal requirement that No Pass Outs are issued at the event. After the event is finished, security monitor the outside area to ensure patrons leave safely.

Q - Will there be a photographer and/or videographer?
A - Yes there will. These photos and videos taken will be uploaded on the Small Talk page. If you or your parents/guardians do not wish for your photo or video to be taken please contact us prior to the event at smalltalkaustralia@gmail.com

Q - I can no longer attend the event, can i get a refund?
A - We understand things come up. You must submit your request with a valid reason via email to info@oztix.com.au 7 days before the event in order to receive a refund.

Q - What if the event is postponed?
A - If an unforeseeable issue results in the event being postponed, ticket buyers will be offered the choice of either a refund, or holding onto their ticket for a future event.

If you have any other questions not answered above, please contact the page directly or send us an email at smalltalkaustralia@gmail.com. We encourage an open door policy with parents and guardians of a high standard.