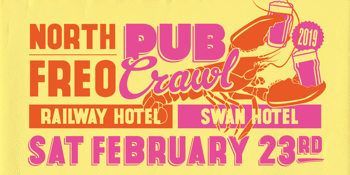 Blue Grey Pink, Sweet Mate and Walking Horse present
NORTH FREO PUB CRAWL 2019
feat. The Love Junkies, Peter Bibby, Noah Dillon, Calmly, Your Girl Pho, Moana, Jack Davies & The Bush Chooks, Tanaya Harper, Erasers & lots more
Railway Hotel & Swan Hotel (North Fremantle, WA)
Saturday, 23 February 2019 6:00 PM
The annual North Freo Pub Crawl returns for 2019, taking over both sides of Tydeman Road on Saturday, February 23. With over 20 acts hitting 4 stages from 6pm, this is one of the great local music parties of the year.

Perennial headliners The Love Junkies return to curate the Railway stages (the Main Room and the outdoor Port Beach Garden Bar) in what will be their first headline show in over a year. They've brought Peter Bibby, Calmly, Moana, Tanaya Harper (with band), Erasers, Yomi Ship, Oosterbanger (also with band), Ursula and Pastel Suburbs with them.

Around the corner, the loveable song writing charm of Noah Dillon and his band will take the reins at the Swan Hotel (Basement and Lounge) with a little help from their friends. He's enlisted Your Girl Pho, Jack Davies & The Bush Chooks, Dumbleachers, Cosy, Racoo, Izatang, Cuss, Fraeya and Man Sandal to bring the party.