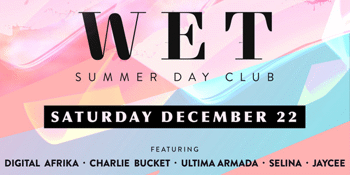 WET Summer Day Club: Vol 1
with Jaycee, Selina Murby, Ultima Armada & Digital Afrika ft. Charlie Bucket
Indian Ocean Hotel (Scarborough, WA)
Saturday, 22 December 2018 12:00 pm
Welcome to WET Summer day club –We have all been waiting for a proper 'Pool Party' to launch on Perth's shores. Well hold onto your budgie smugglers and one piece, WET Summer Day Club is a premier adult playground which will launch this December.

So what are you in for? WET Summer day club –Perth's hottest adult pool party playground where you can have all access VIP treatment. This ultimate adult playground will have bikini-clad hosts male and female, a sprawling poolside dance floor, tricked out cabanas all with a live percussion DJ set on stage.

But hold on that's just the start…To get in the summer 'day club' vibe, our day club will feature well-known artists, live group performances and an epic bomby comp to get you in the tropical Vegas summer spirit. So what are you waiting for grab your budgies, bikinis and poolside attire and grab your ticket now..

JAYCEE: is a producer and DJ, who brings the freshest house, influenced by hip-hop, R'n'B, jazz, funk, and disc

Selina Murby: has played & entertained all over the globe from the Playboy Mansion in LA to Australia & around Europe. She brings everything from RnB, Hip Hop, Dance, Old Skool Party jams, Party Anthems

Ultima Armada: Ultima Armada brings the sonic fusion of dynamic tech-house with an energetic, live drumming performance to create a unique, electrifying experience.

Digital Afrika feat Charlie Bucket – Headline Digging deep into the depths of African rhythms and melody, Digital Afrika is pushing forward the frontiers of dance floor orientated Afro House. The production duo plays their own tracks live and a finely selected assortment of global dance tracks sourced from New York to Lagos.