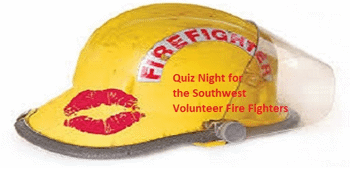 Groovemasters - DJ's & Quizmasters presents
Quiz Night Fundraiser for the Southwest Volunteer Firefighters
South West Italian Club (East Bunbury, WA)
Saturday, 18 April 2020 6:00 PM
Help support the Southwest Volunteer Fire Fighters in the BIGEST Paperless, Electronic & Visual Quiz Night the Southwest has ever seen! All you will need is 1 fully charged smartphone or tablet to play you dont even need to be smart LOL, so what are you waiting for? Book a Table of 10 or come along in any size group and join a table of 10 we make up for you, however you want to Quiz it dont matter, just dont miss out on joining us for a night of Fun, Prizes, and Laughter as its all for a Great cause supporting the local legends called "Volunteer Fire Fighters" because Hero's wear helmets and were hoping the local firefighters and Buisnesses can team up on a table so we will have a battle on our hands that dont involve a fire truck, helicopter or water. (we still might need water HAHA).

There Will Be a licenced Bar so no BYO Drinks Please, You Can bring your own food & snacks, there will also be food available to purchase on the night like chips & Hotdogs, the venue will also be selling food platters and pizzas on the night via pre ordering in advance but may also be available on the night.

Please bring along some gold coins for the fundraising games on the night, we will also have eftpos on the night for you to pay for any of the silent austions you may win.

We Cant wait to Quiz with you!