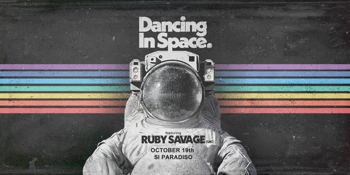 Dancing in space
Ruby Savage (UK)
Nicole Filev, Jane jaya ayres, James A, Charlie Bucket
Si Paradiso (Highgate, WA)
Saturday, 19 October 2019 8:00 PM
Dancing in space returns for the 2019/2020 summer season and to kick thing off we have Amsterdam born London Based Ruby Savage. DJ, record collector, "Wild heart sister" record label owner, Manager of "Sounds signature" label with theo Parrish and Label manager of giles petersons "Brownswood recordings".
Ruby Savage was raised on a mantra of "freedom, healing, peace and power in music". From her mother she inherited an appreciation for the eclectic – from Fela to Miles to Chopin and The Supremes – and once she got into hip-hop in the 90s, it was her mother again who provided the education. "She would recognise the samples", Ruby tells us, "and play the originals…such a babe!!". Her spiritual connection to music, rhythm and dance came through her Surinamese father, a "wild musician" and Obiaman, centred around the Winti religion.
These days Ruby is busy performing all over the world as well as hosting her monthly radio show on Worldwide FM. Local supports come from Nicole Filev, Jane Jaya Ayres and Dancing in space djs James A & Charlie Bucket.