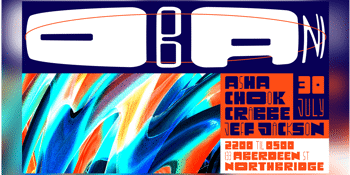 Jack Rabbit Slim's (Northbridge, WA)
Friday, 30 July 2021 10:00 PM
___
Two down, who knows how many to go… Polished metals meet rainbow lights and the clash is beautiful, blinding. Obani rumbles around you, the night's inhabitants buzzing along, and the crisp top end of the bill's selections wafting through the cavernous space. Come make friends; reflect on the past; plan for the future; and move, dance, gyrate in the moment.
___
As hosts, we pay our respects to the Whadjuk Noongar people - traditional custodians of the unceded land we are fortunate enough to gather upon. Be they past, present, or emerging we recognise their perseverance and dedication to culture and country.
___
𝗕𝗶𝗹𝗹
:
Asha
Crabbe
Chook
Jeff Jackson
___
Obani is an event for anyone and everyone. Bigoted and antisocial behaviour of any kind will not be tolerated under any circumstances. If you feel unsafe or discriminated against at any point, please seek the help of security, bar staff or anyone on the door.
The key to any good party is the people you party with, and for this reason we take a very firm stance on belligerence. All offenders proven guilty will be immediately removed from the venue and noted/banned from future events for the sake of maintaining a strong, safe, fun community.
___
This event's artwork was created by the ineffable @k.r.w_