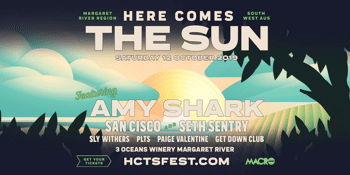 Macro Music presents
Here Comes The Sun
with Amy Shark, San Cisco, Seth Sentry, Sly Withers, PLTS & more
3 Oceans Winery (Metricup, WA)
Saturday, 12 October 2019 1:30 pm
AMY SHARK • SAN CISCO • SETH SENTRY • SLY WITHERS • PLTS • PAIGE VALENTINE • GET DOWN CLUB
-----------------------------------------------------------
Here Comes the Sun
celebrates music and the natural landscape of the Margaret River region, from the picturesque surfing beaches, the incredible local produce & talent to the mile long vineyards.
With some of Australia's most exciting talent,
HCTS
will feature Amy Shark (exclusive WA show), San Cisco, Seth Sentry & PLTS as well as local talents Paige Valentine and Get Down Club.
For more information including conditions of entry, head to www.herecomesthesun.com.au
The After Party
Here Comes The Sun
will host the official festival after-party within the walls of our disco bar from 10pm - midnight. It's free to attend for all ticket holders and is hosted by
The Get Down Club
.
If you're coming by bus, be sure to purchase the AFTER-PARTY bus ticket from Margaret River, Busselton & Dunsborough.
BUSES
We are running two different bus tickets from Marg. River, Busselton & Dunsborough this year.
- EARLY RIDER BUS PASS
Get to the show from the get go! These buses arrive at gates open so you can experience the whole day.
The
Early Rider
bus tickets depart the event straight after the show from 10:00pm
- AFTER PARTY BUS PASS
Arrive a little later - stay a little later and party with us and
The Get Down Club
at the festival Disco-bar!
These buses arrive to the show a little later and leave from 11:30pm. Bring your dancin' shoes!
View the
FESTIVAL TERMS & CONDITIONS
here:
TERMS & CONDTIONS
View the
BUS STOP LOCATIONS
here:
https://www.macroevents.com.au/event-buses
Download the
BUS TIMETABLE
here:
https://www.macroevents.com.au/hcts
Download the
FESTIVAL GUIDE
here:
https://www.herecomesthesun.com.au/HCTS-COE.pdf