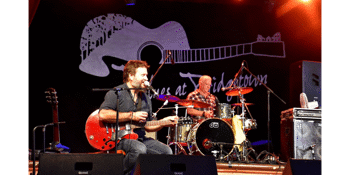 CANCELLED Blackwood Rising, Tracey Barnett & Mikey Long
Indian Ocean Hotel (Scarborough, WA)
Sunday, 19 April 2020 6:00 PM
The mighty Blackwood River that runs through Bridgetown is an impressive force of nature when it floods, and so too are Blackwood Rising in full flight. They're a happy go lucky blues duo who play a raucous mix of originals and covers which all get slathered in bluesy goodness. Fingerpicked tunes with bottleneck slide, various guitar tunings, an octave pedal, a double snare drum kit and an aversion to too much technology is what gets their mojo workin'.
As well as many standalone gigs up and down the state, Blackwood Rising are proud have supported acts such as 19Twenty, Blue Shaddy, and Tom Fisher and the Layabouts, as well as music industry legends Ross Wilson, The Black Sorrows and Mental as Anything.
Mikey is a Scarborough based Roots Musician, forging his sound and songwriting from Blues, Country and Folk Music. His searing slide work and foot stomping rhythms echo the sound of the Delta Blues, combined with travelling songs of unrequited love.
West Australian singer-songwriter, Tracey Barnett, has earned a reputation for heartfelt song-writing and exhilarating shows thanks to her distinctive, high-energy brand of blues and roots.
People love the energy and skill behind her powerhouse stage presence. They are moved and inspired by her emotive lyrics, solid rhythm and slide guitar hooks.
Initially from an alternative rock background, Tracey's style mixes experimental flair with traditional rock, blues and a hint of country, creating a fusion that's impossible to resist. Packed with emotion, her dynamic sound inspires hopefulness, connectedness and pure, unadulterated fun.
She is beloved by her home state where she has toured extensively for over a decade, and has been expanding her tour circuit nationally over the last 2 years.