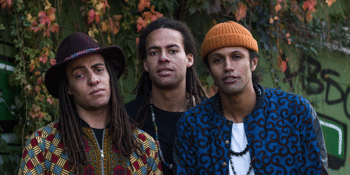 True Vibenation
Indian Ocean Hotel (Scarborough, WA)
Friday, 21 February 2020 8:00 PM
True Vibenation return from tearing up dance floors and festivals across Europe to embark on their own headline tour of Australia with their blend of soul, afrobeat, hip-hop and live horns.

It has been a wild 12 months for the now Berlin based trio, who have been taking their music to the world. Playing shows and festivals across 9 countries and leaving crowds sweating profusely and smiling from ear to ear in the way that only a True Vibes show can.

Made up of multi-instrumentalists Vuli, Moody and Klue True Vibenation has a reputation for an electric live show, which includes all three artists producing beats and playing horns live on stage, taking them to some of the worlds finest festivals including: Glastonbury Festival (UK), HIFA (Zimbabwe), Bushfire Festival (Swaziland), Azgo Festival (Mozambique) They joined Australian legends Sticky Fingers on their massive tours of Australia and Europe, including their first run of stadium shows, and they were hand picked to support acts such as Ozomatli and Thievery Corporation on their Australian tours.
Their single 'Squat' featuring Haiku Hands was added to rotation on Triple J, and community across Australia as well as supported by tastemaker blogs such as NME, Pile Rats and Purple Sneakers. While previous song 'The World Is Ours' peaked at #1 on Spotify's viral chart for the UK and #4 globally, was added to Triple J rotation and was supported by international blogs Afropunk, Indieshufle and Acid Stag.