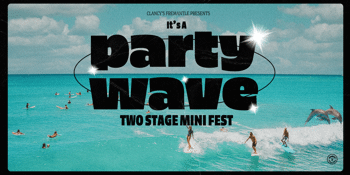 PARTY WAVE | Two Stage minifestival at Clancy's
Clancy's Fish Pub- Fremantle (Fremantle, WA)
Saturday, 31 July 2021 7:00 pm
The winter swells are here and that means big waves and big energies!
Drop in to Clancys on Sat 31 July for the Gnarliest Party Wave Ever!
We've got a lofty lineup of local talent for all to enjoy across two stages at Clancy's Freo.
Featuring: The Spunloves, Airline Food, Hot Sand, Sunsick, The Worms, Hector Morlet, Muscle Club, Sofa and Glimmer
Doors open 7pm

Event is 18+
Persons below 18 are permitted with parent or guardian only.