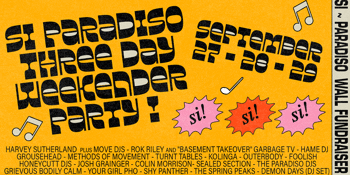 Si Paradiso
Si Paradiso Wall Fundraiser ft. Harvey Sutherland [LIVE] -- (FRIDAY ONLY)
Harvey Sutherland
Si Paradiso (Highgate, WA)
Friday, 27 September 2019 8:00 pm
BENVENUTI IN PARADISO!
Others build walls to keep people away, we must build a wall to keep the good people coming!
Unfortunately, the future of Si ~ Paradiso is being threatened by noise regulations & the voice of a few, so to keep the peace, the party, the pizza & the music programme you love… we are building a Great Wall in our backyard to protect our amphitheatre space, keep our neighbours happy & continue contributing to the cultural fabric of Beaufort Street!
It's been almost a year since we opened the doors & set out to brighten our community, support Perth music culture, bring you good food, great wine & endless energy in a space unlike any other!. After working with the council, exhausting all options and changing the way we wish to run our venue, the time has come.
Great walls are expensive… So what to do…? Do what we love, bring everyone together & throw a party!
A 3 day party of the best things in life ~ music, friends, pizza & wine!
What does this mean for you? The volume stays up, happy ears, happy dancers, under the stars and into the evening!
All proceeds from this long weekend fundraiser go towards the significant costs involved and we humbly call on your support to keep the vibe alive!
All we ask is that you come, enjoy yourselves, eat, drink & party with us.
\\\\\\\\\
UPSTAIRS
ºº Harvey Sutherland (Live Band)
Harvey Sutherland is a producer, DJ and funk synthesist from Melbourne. After steadily making a name for himself amongst Australia's bubbling electronic underground, Mike Katz began to make international waves in 2013 with a series of successful 12" records under his nom de plume. Blending a broad array of crate-digging influences, his initial EPs have already been championed by international tastemakers like Gilles Peterson, Jamie xx and The Black Madonna. Sold-out shows with his impeccable live band followed around the world – including Glastonbury Festival, Nuits Sonores, Meredith Music Festival, Splendour In The Grass and Freedom Time – alongside some unique side-projects: he recently performed an original cinematic disco suite alongside the Melbourne Symphony Orchestra, as well as directing an east coast Australian tour with an 11-piece band in support of New York boogie icon Leroy Burgess.
ººBen Taaffe
ººRok Riley
DOWNSTAIRS
ººGarbage TV
ººHame DJ
ººGrouse Head
FOOD & DRINK
To wash it all down, we'll be pouring plenty of our spring favourites available by-the-glass or bottle and serving up our famous paradiso pizzas all day 'n night.
PRIZE GIVEAWAYS FROM..
Highs & Lows — Dumbo Gelato — MAN-TLE — Modus Coffee + More
Tickets available from
oztix.com
& on the door.
We have kept it pretty brief, but if you would like to know more, then please contact us via ciao@siparadiso.com for a chat!
Ciao ~ Ciao x